It's March 2020 and at this point in the COVID-19 pandemic quarantine, you're probably already feeling like a rat in a cage, no?
Well, Smashing Pumpkins already had the notion in 1994 when they live debuted "Bullet With Butterfly Wings." Riding on the success of their sophomore album
Siamese Dream
, in March 1994 the iconic alt-rockers were on a tour in support of the 1993 release.
During their show in Daveport, Iowa at Palmer Auditorium on this day in 1994, Billy Corgan, James Iha, D'arcy Wretzy, and Jimmy Chamberlain performed an epic 22-song set.
The main set was made up of 11 songs, 8 of which came off of
Siamese Dream
. They opened up with "Cherub Rock" followed by "Quiet," then went on to do favorites like "Disarm" and "Today." SP also weaved in songs from their debut
Gish
like "Rhinoceros" and "Siva." After performing "Soma" they left the stage only to come back for an epic encore.
Here's a video of them performing "Siva" in April, 1994, on the same tour:
It kicked off with "I Am One" which was apparently accompanied with a stage rant. After performing "Mayonaise," then came the
live debut
of one of their biggest hits to date - "Bullet With Butterfly Wings." It was first aborted and followed by a tease of "Bad Moon Rising." Then they attempted to do deep cut "Bye June," but aborted that as well and followed it up with teases of "Communication Breakdown" and "Unchained." Finally, to finish off the first encore, they performed the entirety of "Bullet."
They did a second encore that night which was filled with deep cuts we never hear them play anymore. Following up an instrumental, they performed the first verse of "Suffer," a Gish cut that hasn't been performed since 2011. They also did "Silverfuck" with an "Over the Rainbow" tease. They last played this
SD
rarity in 2018.
Next, SP did their first and only cover of the night - the first verse of Depeche Mode's "Never Let Me Down Again." The last two songs of the night were two super rarities - "Jackboot," which has only been performed by them 8 times and only in 1994, and set finale "Sweet Sweet," which has only been performed by SP 25 times, they last performed it in 2017.
Check out the drool-worthy setlist right here: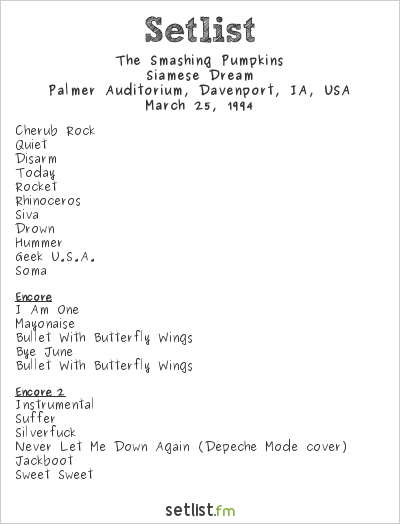 "Bullet With Butterfly Wings" is now SP's most performed song to date. Corgan and Co. have performed it over 800 times since this live debut. The song was officially released in 1995 on
Mellon Collie and the Infinite Sadness
.
Head to SP's website to check out their Spring Rock Invasion Tour - and keep and eye on if they reschedule the dates due to Coronavirus.